Welcome to
CLOUD NINE
---
GALLERY 2B - ART QUILTS
Susan Faber, Textile Artist
---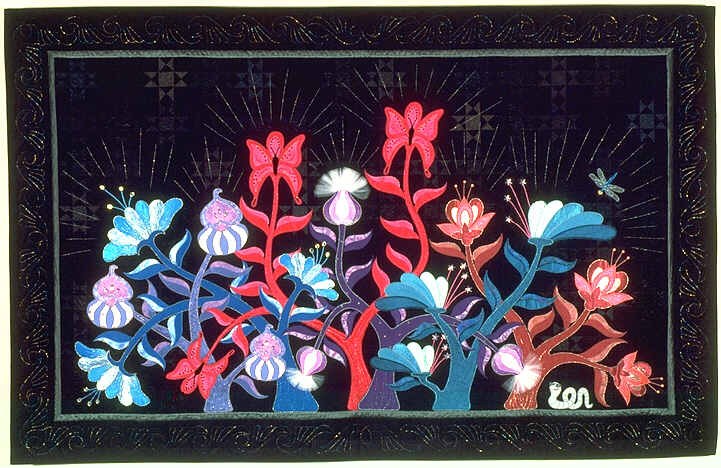 FLORA BOREALIS: THE MIDNIGHT MYSTIQUE
60"X94"
In this mystical garden the flowers bloom at midnight with a radiance akin to the Aurora Borealis.
The glow is so bright that Willy Worm has to wear his shades. I made this quilt for my sister, Jan. We were born and raised in Ohio. The background has 6" Ohio Star blocks in cotton and fancy black fabrics. The border is sculptured Doesuede. The flowers are satin, taffeta, cotton and tissue lame fused to interfacing. The edges are satin-stitched with rayon and Sliver threads. The flowers were completely made and sewn together in a "web" before being applied to the black background which was already quilted. The border is quilted with rainbow Sliver thread and the flower rays are Prizm Lights thread. Following are the honors this quilt has achieved.
First Place in the Mixed Media Large category at the 1997 Houston Quilt Festival
Exhibited at Quilt Expo VI, Innsbruck, Austria, in May 1998
Won Third Place in the innovative category at the 1997 Pennsylvania National Quilt Extravaganza,
Honorable Mention in Professional Mixed Techniques at the 1997 Asheville (NC) Quilt Show
Merit Award for Successful Blend of Innovation and Tradition at the 1997 Asheville Quilt Show
---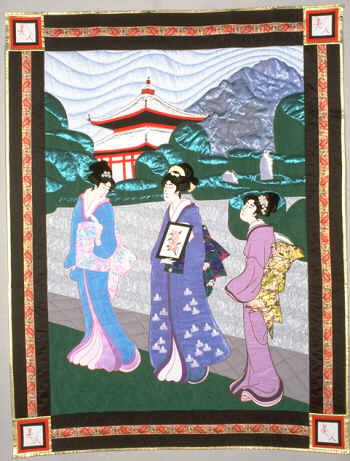 BIJIN: BEAUTIFUL LADIES
75"X56 1/2"
Bijin (pronounced bee-zheen') is appliqued and quilted by machine. The fabrics are satin, taffeta, jacquard, brocade, tricot lame and Ultrasuede. The quilt was made and the ladies completely finished before applying them to the quilt. This was the sixth quilt I made. It is totally made by machine.
---
---
Copyright 1998 by Sue Faber, Cloud Nine Enterprises