Welcome to CLOUD NINE'S
NEWEST QUILTS
GALLERY
---

THE "SECRET" WHITE SOX QUILT
Title: "THANKS ROSEY"
49" x 79 1/2"
This quilt was commissioned by the White Sox wives as a gift for Shirley Rosenbaum. The purpose for giving it was to celebrate the retirement of her husband, Glen, and to thank them for 43 years of dedication to the White Sox organization. Glen retires this year as traveling secretary for the Sox. The knowledge of a new era in their lives, the love and respect of her friends and the many memories this quilt brought to mind, combined to make a few rather tender, teary moments when she was presented with this quilt.
The baseballs were embroidered and then sent to the players and everyone else on the team for signatures. Then they were cut into 6 1/2" squares. The baseball "frame" design was decided first, then the trophy design came to mind. The little plaques on the front of the trophy are some of Glen's kudos from his years with the Sox as a pitcher, batting practice pitcher, coach and traveling secretary. The bats atop the trophy are holding the baseball with Glen's name on it. The silver posts on the trophy are tricot lame. The solid black and solid white fabrics are Kona cotton. The marble-like fabrics are a commercial print and a commercial batik. The bats are a commercial print. The double row of red stitching that surrounds the baseball frame is Glissen Gloss Prizm thread. The banner and "Thanks Rosey" in the arch of the frame were printed from the computer on ink jet transfer paper and ironed on to the fabric. The trophy plaques were also done this way. It is machine quilted with black thread and monofilament thread. Below are some closeups.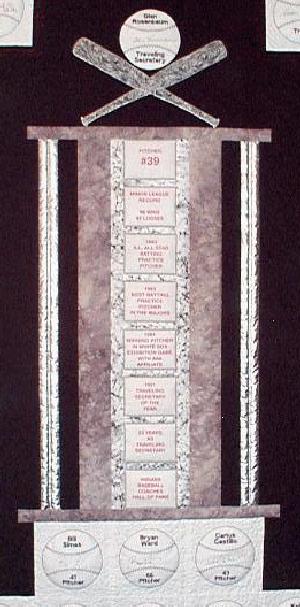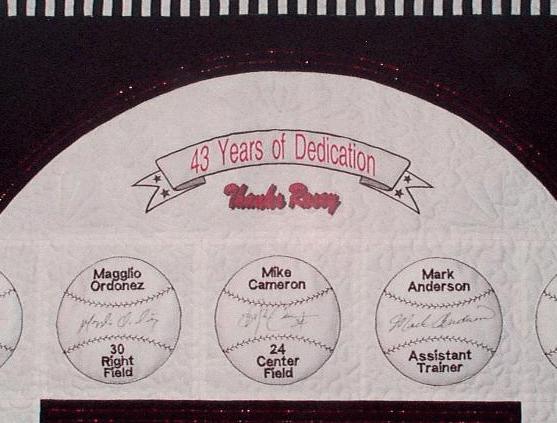 ---
---
Copyright 1998 by Sue Faber, Cloud Nine Enterprises